Sinquefield Charitable Foundation Gives $100,000 to TFA
December 17th, 2009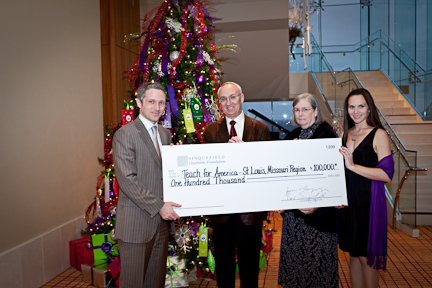 The Sinquefield Charitable Foundation has donated $100,000 to Teach For America, a non-profit group that recruits top college graduates to teach for two years in low-income communities.Run by Rex and Jeanne Sinquefield, of Westphalia, Mo., the foundation has long been involved in funding innovative efforts to improve education opportunities for children in Missouri and beyond. The Sinquefields are strong supporters of Teach For America, which accepts teacher applicants from all academic disciplines – not just education.
"Jeanne and Rex Sinquefield are incredible advocates for state-wide education reform and we are thrilled that they are supporting Teach For America as an integral part of that effort," said Scott Baier, executive director of Teach For America-St. Louis. "We operate with a shared sense of urgency to improve students' academic outcomes by going above and beyond traditional means to ensure dramatic progress through recruiting and supporting outstanding teachers. We are incredibly thankful for their support."
Formed in 1990, Teach For America has more than 7,300 individuals teaching about 450,000 students in 35 urban and rural regions across the country. Teach for America has about 200 teachers in the St. Louis area, and about 125 in Kansas City.
The program has been highly successful in part because Teach For America places high-quality graduates into schools. A recent study conducted by the Urban Institute showed that Teach For America teachers are more effective on average, as measured by student exam performance, than non-Teach For America teachers. The study, which used seven years of data, found that a Teach For America teacher had two to three times the impact of a teacher with three or more years of experience.
"Teach For America's overwhelming success in very difficult education environments is something that needs to be repeated throughout this country," said Jeanne Sinquefield. "We're hopeful that with our gift many more children will get the opportunity to be inspired and instructed by the terrific corps of Teach For America teachers."
The Sinquefield Charitable Foundation has amassed a long list of organizations and schools that support children, including: neurofeedback and autism research at University of Missouri-Columbia; Creating Original Music Competition or C.O.M.P.; New Music Initiative, coordinated through University of Missouri-Columbia; St. Vincent Home for Children in St. Louis; Bishop DuBourg High School in St. Louis; Father Augustine Tolton Regional Catholic High School in Columbia; Special Learning Center in Jefferson City; the MBA programs at Saint Louis University; Boy Scouts of America; Children's Education Alliance of Missouri; and Giant Steps, which helps children with autism.